Mama Nel's Chicken
Mama Nel's Chicken
(serves four with leftovers)
1 large chicken
1 cup flour
sea­son­ings to taste: gar­lic salt, onion pow­der, dried basil, thyme, cayenne, Fox Point, cel­ery salt, what you like!
3 tbsps veg­etable oil
4 sprigs fresh rosemary
Quar­ter the chicken by remov­ing its back­bone, then sep­a­rat­ing the breasts/wings from the legs.  Throw the back­bone in a pot with an onion and a car­rot, to make stock.
In a plas­tic bag with­out holes (!) thor­oughly toss together the flour and sea­son­ings.  Place the chicken pieces in the bag, hold the top closed tightly, and shake gen­tly till all the chicken pieces are coated in the flour.  Pour the veg­etable oil in a large oven-proof dish, large enough to hold all the chicken pieces in one layer.  Place the rose­mary sprigs in the oil and place a chicken piece, skin side down in the veg­etable oil on top of a rose­mary sprig.  Bake at 425F/220C for 30 min­utes, then turn each piece over and bake for another 20 minutes.
*******************
Amer­i­cans my age will rec­og­nize this as a home­made ver­sion of Shake 'n Bake, a sta­ple of my child­hood.  And while it's seem­ingly impos­si­ble to find out what's actu­ally in the orig­i­nal mix, I would be will­ing to bet there's a lot of sodium in one form or another, some MSG, and sugar.  Not in my recipe.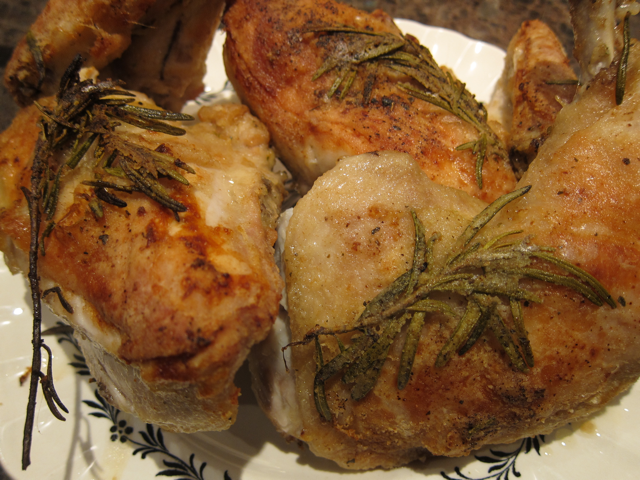 Print This Post