Tuna Tartare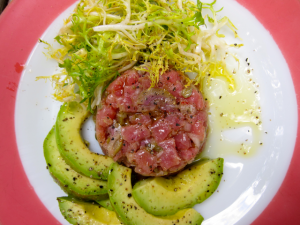 Tuna Tartare
(serves 4 for a dainty appetizer)
1 pound VERY fresh sushi-grade tuna
2 tbsps tiny capers, chopped
3 tbsps green olives, sliced in half, then sliced thin (mine came with chilli flakes, a nice addition)
2 tbsps olive oil
juice of 1 lemon
2 tbsps ponzu sauce
sea salt and fresh black pep­per to taste
2 hand­fuls frisee lettuce
1 avo­cado, sliced and driz­zled with lemon juice
extra olive oil for drizzling.
Chop the tuna fairly fine, much smaller than bite-size pieces, but not mushed.  Place in a medium bowl and add the capers, olives, olive oil, lemon juice and 1 tbsp of the ponzu sauce.  Ponzu sauce, in case you have not cooked with it before, is a rev­e­la­tion.  It is a slightly fishy, very cit­rusy, clear soy-based sauce that lends itself per­fectly to sushi and sashimi sal­ads.  Sea­son the mix­ture and set aside.
In another bowl, place the frisee and driz­zle with remain­ing ponzu sauce.  Mix with your hands.  For each serv­ing, place a bit of frisee and some avo­cado slices on a plate.  Divide the tuna mix­ture into four serv­ings and place each serv­ing in a lit­tle ramekin, pack­ing the mix­ture tightly.  Turn ramekin upside down on plate.  Driz­zle with a bit of olive oil and serve cold.
Print This Post