of best friends and a birth­day girl
--August 19th, 2011--
The humid­ity has really set­tled in.  It's that decep­tive sort of weather that makes you don your ten­nis togs, grab JUST not enough cold water, and head to the courts.  After you've moved around for about five sec­onds, you're SOAKED!  It's a nice tem­per­a­ture if you don't MOVE.
Last night was one of those iconic Con­necti­cut evenings, heavy with damp, fra­grant air, rolling dis­tant thun­der and flashes of heat light­ning behind Stillmeadow.  I dashed across to leave a pack­age that had come UPS for Anne and David, open­ing our sweet lit­tle red gate to run across the dusty road, knock on their door, hear sounds of Katie's bath­time, look in at the cozy lamp­light, feel­ing at once like a bit of a voyeur and also intensely grate­ful for our friendly lit­tle bend of road.
How I love hav­ing Kate turn up to tram­po­line, her mother to sit down for a quick sand­wich — today's of slices of a rolled-up moz­zarella, pancetta and pars­ley con­coc­tion, plus the juici­est of heir­loom tom­toes — lis­ten­ing to her dad strug­gling with the lawn­mower across the road.  And more heat thun­der and light­ning, today at lunchtime.  They are the best pos­si­ble neighbors.
Avery's best friend from baby­hood has turned up for her annual visit.  Cici came to meet Avery when Avery was three days old and Cici a grownup lady of six months, and they were joined at the hip for nine years, until we moved to Lon­don.  Their friend­ship is one that sur­vives from year to year with a mys­te­ri­ous alchemy from lit­tle girl­hood to the beau­ti­ful young women they are now.  The two of them haven't changed one iota.
They're teenagers, which means they can watch eleventy hun­dred episodes of "America's Top Model" in a row, while com­par­ing the rel­a­tive mer­its of Amer­i­can and Euro­pean candy, then sleep for twelve  hours.  They also don't mind the heat if they can be on an amuse­ment park ride, so John has taken them off this after­noon to Quassy and after shar­ing a few rides with them, has left them to spend a hot after­noon filled with roller coast­ers, The Sat­u­ra­tion Sta­tion, and fried dough.  Last night they ate their weight in spaghetti car­bonara, so my con­science is clear.  I have fed them real food.
Cici is the last in our series of sum­mer vis­i­tors, and a nice crown­ing touch to a sea­son of cel­e­bra­tions.  My mother has come and gone, for her big 75th birth­day week­end.  What fun we had.
Oh, the food we cooked!  We made our way to Jill and Joel's house for an on-the-day birth­day din­ner, where my con­tri­bu­tion was tri-color slaw, with poppy seeds and an Every­thing Dressing.
Tri-Color Slaw
(serves at least eight)
1/2 head red cabbage
1/2 head Savoy cabbage
4 car­rots, shredded
Dress­ing: 1/3 cup each: olive oil (I used the left­overs from a jar of mar­i­nated arti­chokes!), may­on­naise, lemon juice, Thou­sand Island dress­ing, plus 1 tbsp Dijon mus­tard and 1 tbsp poppy seeds
Shred both cab­bages and all the car­rots, toss with dress­ing.  Serve room tem­per­a­ture or cold.
*************
And my good­ness, Joel cooked an incred­i­ble din­ner.  Grilled pork ten­der­loin and the best risotto.
Fresh Tomato Risotto with Basil
(serves four)
5 cups chicken broth
4 tbsps butter
1/2 chopped onion
1 tbsp veg­etable oil
1 1/2 pounds firm ripe toma­toes, peeled, seeded and cut into 1/2 inch pieces
salt and freshly ground pepper
1 1/2 cups carnaroli, arbo­rio or vialone nano rice (about 10 ounces)
1/2 cup freshly grated Parme­san cheese
10 basil leaves cut into very thin strips
In a medium saucepan, bring the broth to a boil and keep sim­mer­ing constantly.
In a large saucepan, com­bine 2 tbsps of the but­ter with the onion and the oil.  Cook over mod­er­ate hear, stir­ring occa­sion­ally, until the onion turns pale gold.  Add the toma­toes and a pinch each of salt and pep­per and cook, stir­ring occa­sion­ally, for 10 minutes.
Add the rice and stir to thor­oughly coat the grains.  Add 1/2 cup of the sim­mer­ing broth to the rice and stir con­stantly until most of the liq­uid has been absorbed; adjust the heat to main­tain a sim­mer.  Grad­u­ally add more broth, 1/2 cup at a time, and cook, stir­ring the rice con­stantly to pre­vent it stick­ing to the pan at any time.  The rice is done when it is firm but ten­der, with­out a chalky center.
Add the remain­ing but­ter, the cheese and the basil and stir for 1 minute longer.  Sea­son with salt and pep­per and serve at once.
It was lovely to have all the girls together with their grand­mother and John's mom, sit­ting in the back­yard with the swingset and the chalk games being played on the dri­ve­way.  And after risotto, there were cupcakes.
My dear mother loves noth­ing more than a plate of sweet things!
Jill and Joel's kitty Snow­ball marched back and forth with first a half-dead chip­munk and then a more-than-half-dead bird in his mouth… "The cycle of life," said Joel.  "Finally, another man in the house.  That's my boy."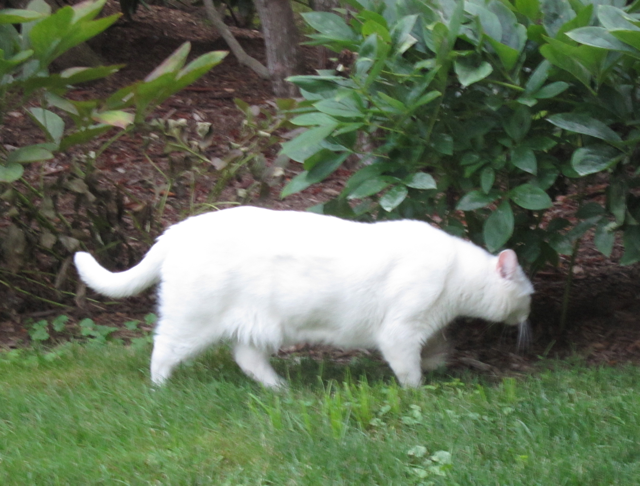 And we gave Mom her present — "the most fun I've had with my fam­ily in a very long time!" John said, describ­ing the evening we put it all together.  The 75th birth­day Per­sonal Crossword.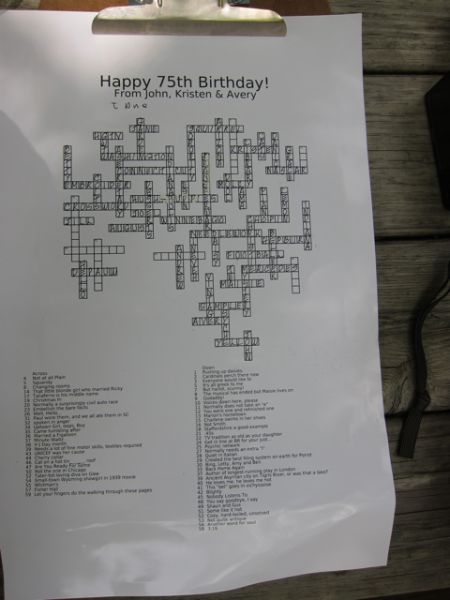 How we racked our brains for clues, and answers!  Going all the way back to Mom's child­hood, her favorite movies, sports teams, color, flower, tele­vi­sion shows, all our names, the neigh­bor­hoods she's lived in… it was SUCH fun.  And she enjoyed it.
But the fun didn't stop there.  The next day brought them all to our house for the annual party, dec­o­rated care­fully with as many yel­low bal­loons as we can fit in the back of the Land Rover.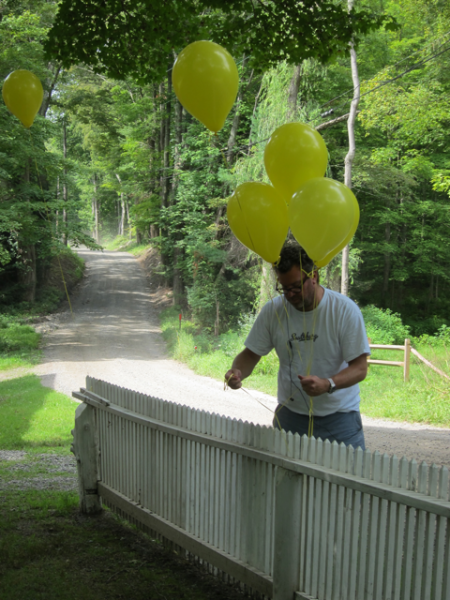 Even a very cool teenager is happy to get out of bed to tie a few thou­sand bal­loons to the fence and the bird feeder!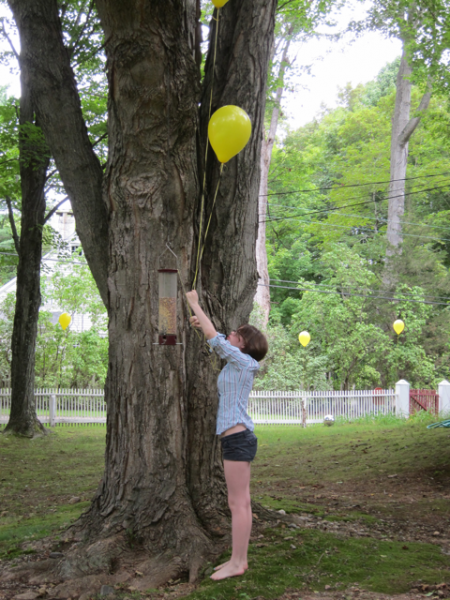 It is always such fun for me to work in the kitchen as the time for the party approaches, and to watch cars pull up in the dri­ve­way, filled by a happy group of so many won­der­ful peo­ple.  Of course, it's a com­plete acci­dent that some of them come armed with the most deli­cious food, like Cathy and her strawberry-rhubarb pie, or Olimpia and her famous meat­balls!  It's the friend­ship that matters.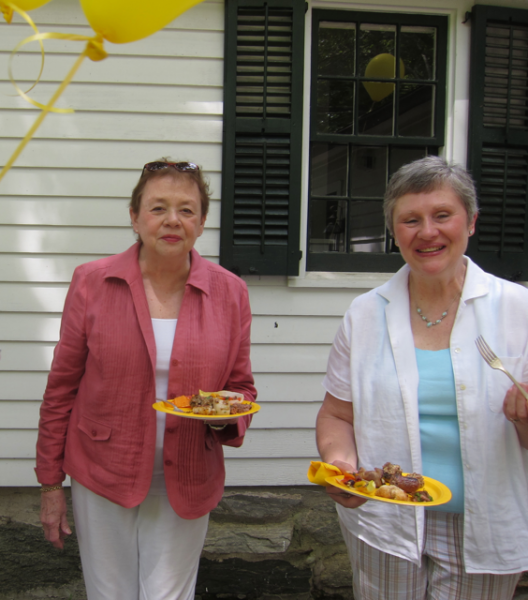 And of course it's a com­pletely coin­ci­dence that Tri­cia and Rol­lie come armed with everyone's favorite baby, Tiny Rol­lie.  Olimpia and Tony may have enjoyed spend­ing time with him, just a little.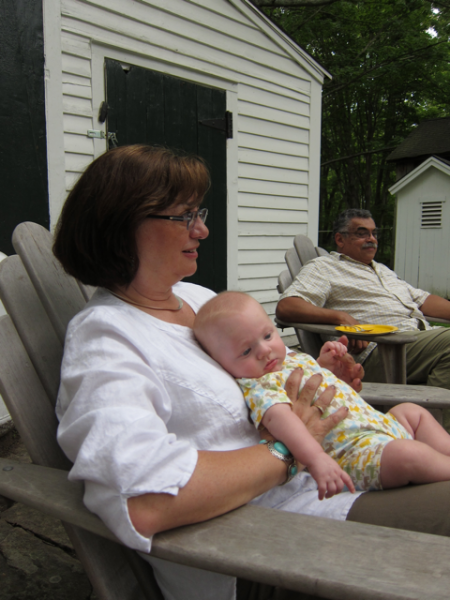 There was the table of lit­tle girls…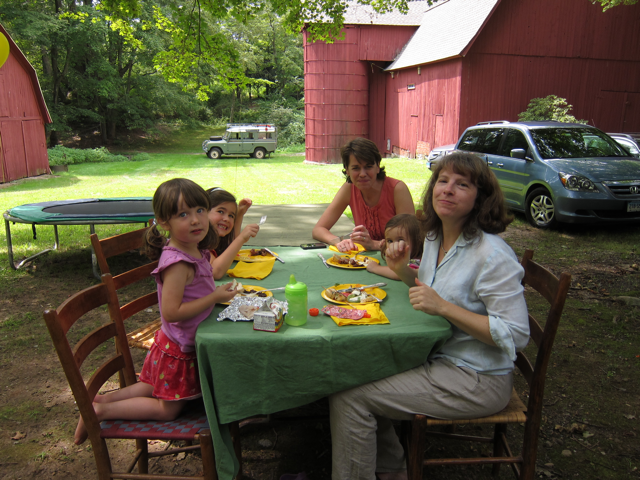 And while I did not get a decent pic­ture of my dear friend Shel­ley, I did snap Avery with Shelley's present.  There is a lady who under­stands cats.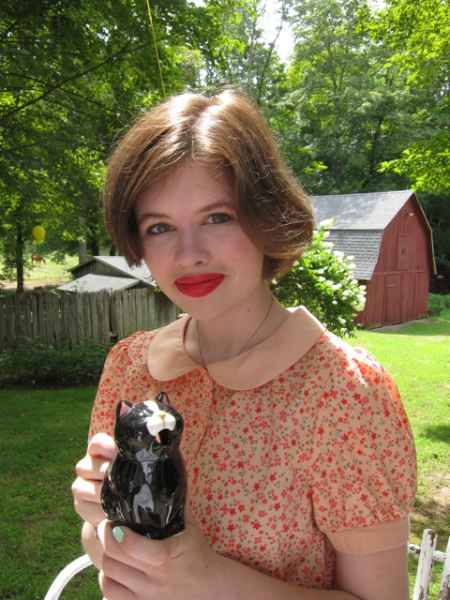 There was time to sit for a time to appre­ci­ate everyone's spe­cial con­tri­bu­tions: the won­der­ful sto­ries that Cathy tells of her aunt liv­ing here in our house, Shelley's ency­clo­pe­dic knowl­edge of the gene­ol­ogy that makes her eighth cousins something-removed from Anne, Joel and Olimpia's con­tri­bu­tions of ideas for egg­plant meat­balls, the shouts of the lit­tle girls (and one big girl, ever-patient) on the tram­po­line, ring­ing sweetly in the dis­tance.  First Joel super­vised and they were crazy.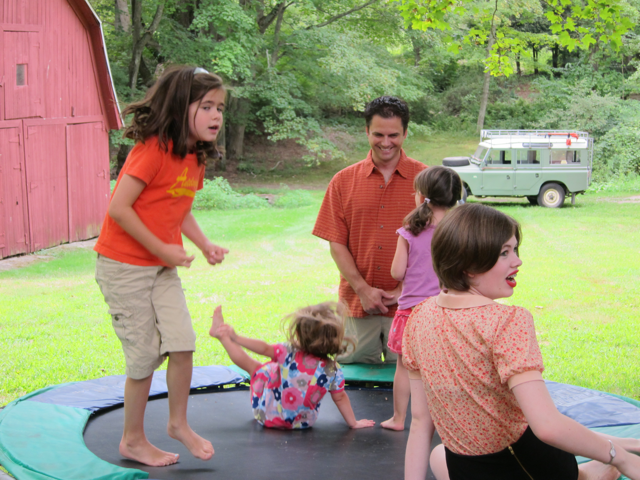 And then, because they all adore John's mom who wielded the cam­era (as we all count on her to do!), they posed for her, each of them beau­ti­ful in her own unique way.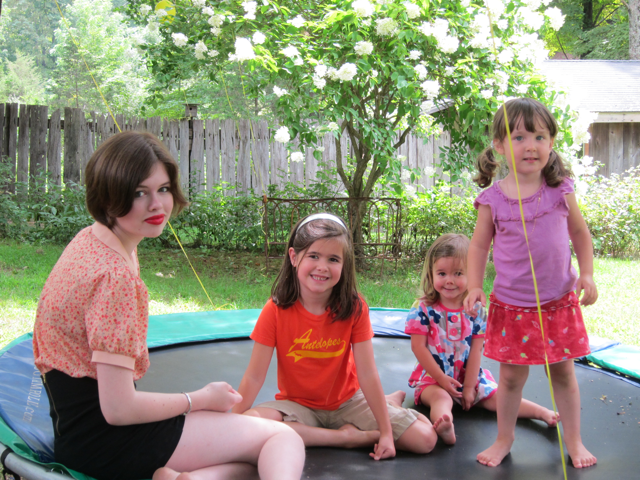 My husband's good humor and end­less energy with the girls and the Land Rover, added the spice of Everyone's Favorite Dad to the mix.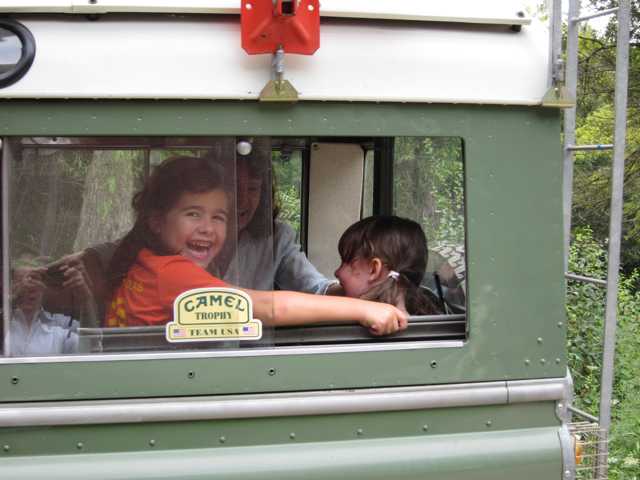 And Anne didn't save all her baby enthu­si­asm for her own.  She had time for Tiny Rol­lie, too.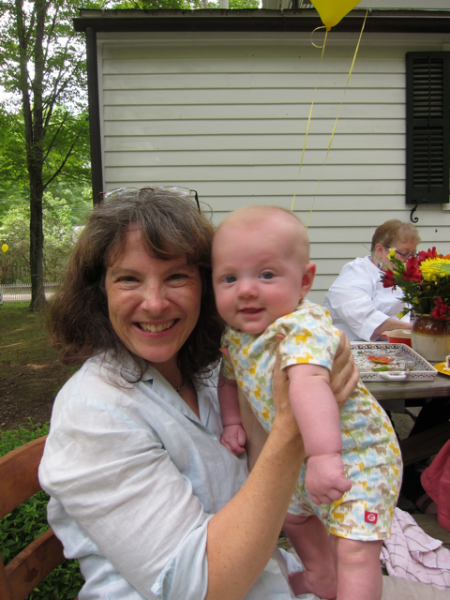 Jill and Avery sim­ply can­not take a bad pho­to­graph.  The two most beau­ti­ful girls at the party, perhaps.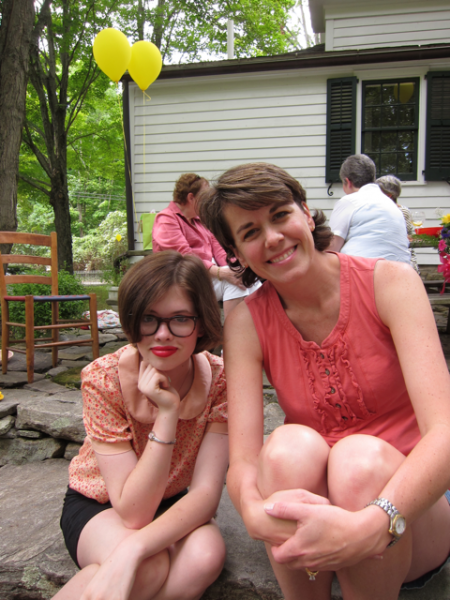 And what part do I play in all this?  I am the rope that draws every­one in, the chron­i­cler of our times together, the grate­ful audi­ence for everyone's charms.  And the pro­ducer of grilled scal­lops wrapped in bacon, it must be said.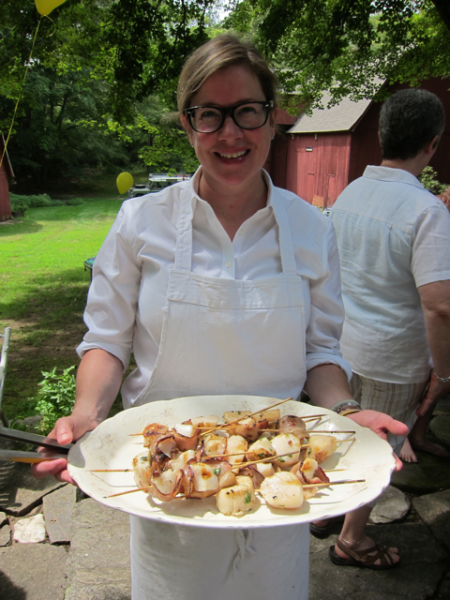 Through it all, my mother per­formed her usual mir­a­cle of find­ing some­thing to talk about with every­one.  She had brought the cross­word with her to beg for mercy, to ask for help with the last three or four clues (and they weren't our best effort, I admit).  She sat on the shady ter­race with Anne's and Olimpia's flo­ral trib­utes all around her, and enjoyed all her favorite foods, which hap­pen –hap­pen!- to be my favorite foods!  There were chicken liv­ers sauteed in but­ter and Madeira, mush­rooms stuffed with sausage, pecans baked with spiced but­ter, heir­loom tomato salad with moz­zarella, olive oil and lemon juice.  I think she was happy.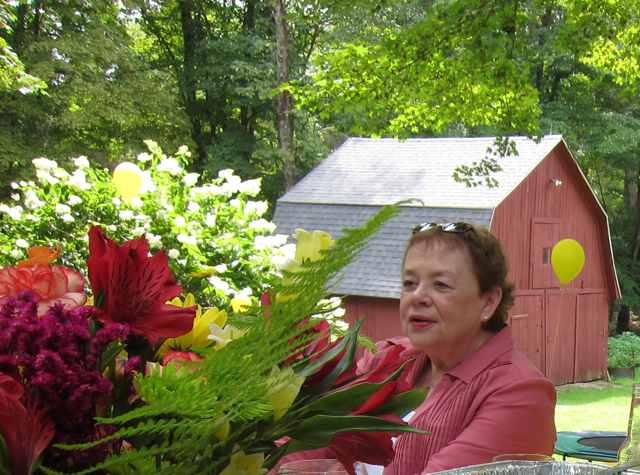 And for once, Jill, Joel and John's stric­tures that "it's not a party at Red Gate Farm unless everyone's cry­ing" did not come true.  The day ended mag­i­cally, as all birth­days should, with cake.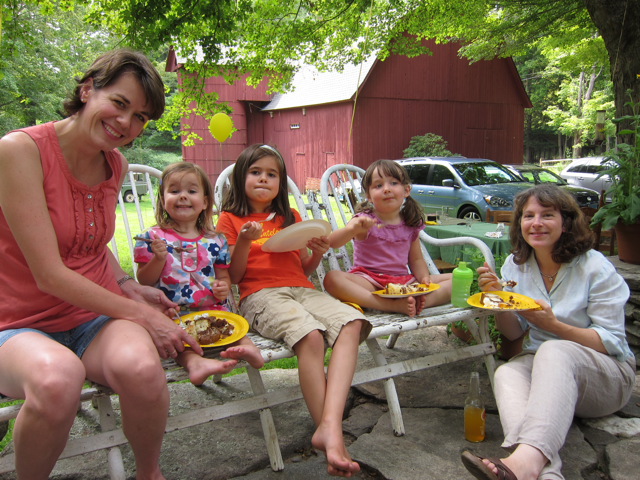 Now it is all over for another year.  The birth­day is over, the last hugs have been exchanged, and my mother and brother have gone home.  Thank good­ness John's mom has stayed behind to cheer us up.  Although, to tell you the truth… we're pretty happy these days.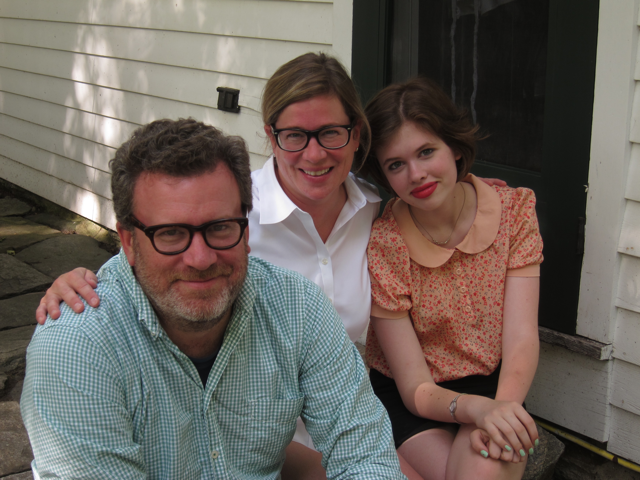 Print This Post