sick as a parrot?
--May 8th, 2006--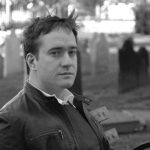 Don't say any­thing. Come on.
Last time, I promise. Give me a break, it's a pic­ture of him in Tribeca. Just one lit­tle pic­ture and I promise I'm finished.
OK, that's over. On to the sub­ject line of this post: a com­pletely new one for me! Sit­ting in the taxi com­ing back from tak­ing Anna home, I heard the radio announcer talk­ing about the World Cup this sum­mer. "Sven Goren-Erikkson has named his team for this summer's effort in the World Cup. After the break, we'll give you the list. Who is over the moon, and who's sick as a parrot?"
OK, as silly as "over the moon" sounds to a novice in Eng­land, at least it's jolly famil­iar non­sense lan­guage for "really happy." There­fore, one assumes that to be "sick as a par­rot" means really, really dis­ap­pointed, but… from where can this expres­sion derive? Are par­rots par­tic­u­larly sick, when they're sick? Very odd.
I feel bad, now, that I gave you two such dif­fi­cult recipes. So to make up for it, here's a super easy entire din­ner that we had over the week­end, thus pro­vid­ing me with left­over pork for the fried rice the next evening (and more than enough for pork sand­wiches in between, if you can bear that much pork two days in a row — I cer­tainly can).
Pork Roast with Pota­toes Anna and Roast Beet­root

1 2 lb fil­let of pork
1 bunch beets (usu­ally 4)
four large white pota­toes (not bak­ing, though)
1 bunch rose­mary
3 cloves gar­lic, minced
3 tbsps olive oil
salt and pep­per
1 stick but­ter
3 tbsps bal­samic vinegar
An hour and a half before you want to eat, cut the tops off each beet and wrap them as a group in foil. Put them in a hot, hot oven (425).
Then get a cou­ple of gro­cery bags you've been sav­ing for when you scoop out the lit­ter box and put one inside the other (bags, I mean, not the lit­ter box). Then put in the pork roast, the rose­mary, the olive oil and gar­lic, salt and pep­per in the bag and shake and squeeze until you're sure the roast is coated. Leave until the beets have 45 min­utes left to cook.
At the 45-minute moment, put your roast in a foil-lined pan (then when you're clean­ing up you just ball up the foil and throw it away, and put the dish on its blame­less shelf wher­ever) and put it in the oven, tak­ing care to put the bunch of rose­mary under­neath it. Then quickly peel and thinly slice your pota­toes, or hap­pily run them through a slic­ing blade on your cuisi­nart (my OCD self delights in the hand-slicing, which is sav­ing me thou­sands of dol­lars in ther­apy). Then melt the but­ter in a heavy skil­let and arrange the potato slices in as even a fanned series of lay­ers as you can. Salt and pep­per them and put them over a low flame. LEAVE THEM. Do not suc­cumb to the temp­ta­tion to stir, poke, turn or in any other way inter­fere with their lives at this point. You can just sit around in the kitchen read­ing your book for about 20 minutes.
Then, put a plate over the skil­let and turn the pota­toes out upside down. Then slide them back into the skil­let to cook on the other side. Again, resist the temp­ta­tion to play with them! The point is to give your­self a break while also let­ting them cook undis­turbed so they'll come out all nice and intact and crispy.
Finally, when the beets are done, take them and the roast out of the oven. Let the roast rest while you peel the beets and cut them up, and splash them with bal­samic vine­gar. Then carve the roast and slide the pota­toes onto the plate again.
Done. It's easy peasy, as they say here, and com­pletely com­fort­ing and GOOD for you. Well, there is that stick of but­ter, but don't be picky, please.
Print This Post