we've won the Group!
--June 21st, 2006--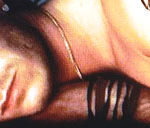 What­ever that means! But it's clearly good news for Eng­land. Isn't this a gor­geous photo by Sam Taylor-Wood? We ended up in a draw with Swe­den last night, which was not as good as trounc­ing their lit­tle Scandy pants, but bet­ter than los­ing. All the com­men­ta­tors assured us solemnly that Eng­land haven't beat Swe­den since 1966, inton­ing the year as if it were before elec­tric­ity, which con­sid­er­ing I was sit­ting up in my high chair at the time I found depress­ing. How­ever. Plus, you've got to get the lat­est issue of Grazia mag­a­zine, a sort of tack­ier Hello! but on really nice glossy paper which leads you to believe at first that it's a nice mag­a­zine. But it's really filled with things like a full-length fea­ture arti­cle on the WAGS ("Wives and Girl­friends") of the Eng­lish foot­ballers, and their antics around the pool in Baden Baden at the World Cup. Hon­estly, the things I can con­vince myself to get inter­ested in, if I'm des­per­ate enough.
So that's cool. Now we play Ecuador next. I can't remem­ber when, but I'm sure I'm the only per­son in the coun­try who can't.
It's offi­cial: I feel well now! Thank good­ness. There's noth­ing like a bout of real ill­ness that lasts a fairly long time, to give you an appre­ci­a­tion of just feel­ing nor­mal. It will be awhile before I am back to com­plain­ing that I won't look great in a bathing suit this sum­mer, or that I hate my hair­cut, or any­thing else. I'm just glad to feel nor­mal. Maybe we'll even mosey over to the Lucky Spot for din­ner this evening. I have my penul­ti­mate act­ing class this after­noon, while Avery pays homage to the lat­est guinea pig babies who were born at Anna's house yes­ter­day. "They are so cute, Mommy! And you could feel their lit­tle parts under the mother's skin, mov­ing around, before they were born." "Gee, I remem­ber that before YOU were born," I said. "Do you remem­ber any­thing from before you were born, Avery?" "Oh, yes, I remem­ber it was dark and crowded. That was the begin­ning of my claus­tro­pho­bia." What a sweet, heart-warming thought. I'm so glad I asked.
Print This Post