Cured Fil­let of Beef
Cured Fil­let of Beef
(serves 6–8, with other ingre­di­ents, as a salad)
good chunk — maybe 700 grams/ 1 1/2 lb -  fil­let of beef, PER­FECTLY trimmed of all fat and sinew and membrane
60% salt to 40% sugar, enough to cover and sur­round the fil­let — per­haps 2 cups total mixture
8 sprigs rosemary
plenty of fresh ground pepper
Place 4 of the rose­mary sprigs on the bot­tom of a plas­tic con­tainer that will eas­ily hold your fil­let.  Gen­er­ously cover the bot­tom of the con­tainer with the salt/sugar mix­ture, then place the fil­let on top and pour in the rest of the salt/sugar mix­ture to cover and sur­round the fil­let.  Place the last 4 leaves of rose­mary into the top of the salt/sugar mix­ture, and cover the container.
Leave in the fridge for 3 days.  You will be amazed!  The salt/sugar has MELTED, the fil­let has shrunk dra­mat­i­cally and dark­ened, and stiff­ened.  Have a look.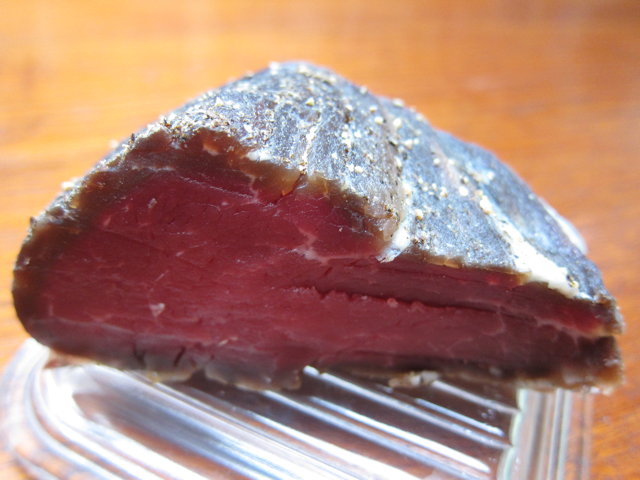 Take the fil­let out of the cur­ing liq­uid and wash it well with cold water, then dry with a clean cloth.  Rub more fresh black pep­per all over the fillet.
Now for the salad ingredients.
Cured Beef and Cele­riac Salad
(serves 6–8 eas­ily, as a starter)
fil­let of cured beef
1/2 head cele­riac (cel­ery root), peeled
juice of 1 lemon
1 1/2 tbsp Dijon mustard
4 tbsps creme fraiche or sour cream
sea salt and pepper
good hand­ful rocket leaves (my addi­tion, you know me and rocket)
Sim­ply slice the cele­riac VERY thinly, into pieces like match­sticks.  Fer­gus reminds us to driz­zle lemon juice over the cele­riac all the time you are chop­ping it, so it doesn't go dark.  Fold the mus­tard and creme fraiche together and sea­son to taste.
Slice the beef very thinly across.  Lay it on a pretty plat­ter on a large cir­cle, then scat­ter the cele­riac match­sticks over, and the rocket leaves.  Driz­zle with the mustard-creme fraiche dress­ing and serve.
Print This Post