spring­ing to life
--May 20th, 2012--
I have a con­fes­sion to make: I am find­ing it harder and harder to blog!  The rea­son for this turns out to be the rea­son for the down­fall of most wor­thy endeav­ors: distraction.
Face­book is per­ni­cious.  I adore it — hear­ing what my kinder­garten friends in Indi­ana and my col­lege friend in South Africa and my mother-in-law in Iowa are doing all at the same time, not to men­tion see­ing everyone's kids' prom pic­tures.  I love pop­ping up Avery's inspir­ing pho­tos of what I'm cook­ing for din­ner and get­ting lots of ques­tions about recipe method.  It's great to get everyone's sup­port for a bell­ring­ing milestone.
What Face­book has going for it, and indeed every­thing on the inter­net, is imme­di­acy.  You put some­thing out there, and some­one replies.  Lots of peo­ple reply.
Embed­ded in the web of the inter­net is my beloved new food-writing gig, "Hand­Picked Nation."  It's such fun to muse over a piece as I'm rid­ing my bike or emp­ty­ing the dish­washer, then do a bit of research and write it up, send it off and some­times in a mat­ter of day or so, it appears online.  Total strangers from all over the world say "like" and leave their com­ments about the deli­cious­ness of Miso Egg­plant.  How to resist?
So I won't.  But the blog does some­thing dif­fer­ent.  Leav­ing aside the fact that my beloved mother doesn't "do" Face­book, and so I must con­tinue writ­ing the blog so she can have a last­ing glimpse into our lives, it's also fun for me to con­tex­tu­al­ize the whole of what's hap­pen­ing to us, to see the con­ti­nu­ity among vol­un­teer work, plays, recipes, funny things Avery says, and of course, bellringing.
I really don't approve of mod­ern society's throw­away atti­tude toward any­thing and every­thing.  Our local dry cleaner actu­ally laughed when I brought in a duvet to be washed.  "Why not just throw it out and get a new one at Pri­mark?  It would be cheaper."  Throw­ing away a chicken car­cass with­out mak­ing soup from it would give me night­mares.  And no mat­ter how much I love Face­book, it's a bit of a throw­away.  Where do Face­book posts go, even­tu­ally, any­way?  And how much scrolling can any one per­son be expected to do?
No, the blog must stay.  There are sto­ries to be told.
For exam­ple, what fun was the Gath­er­ing of Nuts in May — as we call the annual reunion of nutty peo­ple who went on a food writ­ing course nearly five years ago.
Each year we find a house to accom­mo­date all of us (some­where between 8 and 10 peo­ple), with a decent kitchen to cook in.  This year found us in the out­skirts of the charm­ing Northum­ber­land mar­ket town of Alnwick, a long, dull train­ride away from Lon­don Kings Cross.  Did I men­tion it was on the sea?
With many hugs and instant rep­e­ti­tions of the jokes from all other years, we three who had arrived on the Lon­don train trooped into the kitchen to unpack all the gro­ceries, cock­tail con­tri­bu­tions and, in my case, a large plas­tic con­tainer of poached and smoked salmon ter­rine I had made that morn­ing.  Rosie, the laugh­ing diva who holds us all together, had already packed the kitchen with var­i­ous good­ies, and I found it extremely funny that nearly every­one who came brought a per­sonal stash of Mal­don Sea Salt, which has prac­ti­cally come to replace the sim­ple word "salt" in Eng­lish food-loving cir­cles.  That's cook­ing friends for you.  Have salt, will travel.  Sam even trav­els with his own knives, but then, he drove.  "We're prac­ti­cally in Scot­land!" he moaned.  "I've been dri­ving FOREVER."
Cer­tainly we weren't in smoggy, traf­ficky Lon­don any­more.  We went imme­di­ately for a walk "to the sea," which was aborted when it was clear that we'd never get there before dark.  But it was gorgeous.
Din­ner that night was my salmon ter­rine, fol­lowed by Rosie's Moroccan-inspired feast of veg­etable cous­cous, an eggplant-tomato-courgette dish, long-simmered with gar­lic and cumin, and fab­u­lous chicken thighs mar­i­nated in a tomato-spice-yogurt mix­ture and then baked.  I made my own ver­sion when I got home, to Avery's and John's delight.  Stuffed with red pep­pers and cous­cous, they were heavenly.
Moroccan-Spiced Bone­less Baked Chicken Thighs
(serves 4)
8 bone­less chicken thighs, skin on
1 1/2 cups cooked couscous
hand­ful diced sweet red pepper
2 cups full-fat Greek yogurt
1 tsp Baharat seasoning
two pinches ras-el-hanout sea­son­ing mixture
1/2 tsp ground cumin
1/2 tsp ground turmeric
pinch garam masala sea­son­ing mixture
6 cloves gar­lic, minced
1 shal­lot, minced
zest of 1 lemon
2 tbsps tomato paste
pinch Mal­don sea salt
fresh ground pep­per to taste
Line a 9x13 bak­ing dish with foil (makes for much eas­ier clean­ing up).  Mix the cous­cous with the red pep­pers.  Lay the thighs in bot­tom side up, and open up.  Place a good spoon­ful of the cous­cous onto the opened thigh, then fold shut.  Line up skin-side up in bak­ing dish.
In a mix­ing bowl, mix all the other ingre­di­ents.  Pour over the thighs and mar­i­nate in fridge for at least 2 hours, or overnight.
Bake at 180C/350F for about 45 min­utes or until thor­oughly cooked.
***********
The fun of the GNIM reunion is that it's the only time in my whole life when I'm able to shop for food, talk about shop­ping for food, come home and cook whilst talk­ing about cook­ing, then EAT whilst talk­ing about shop­ping, cook­ing and eat­ing.  We are tire­less.  Dear Katie, my roomie, arrived late and there was more deli­cious catch­ing up to do.
The next day we motored over to Alnwick itself for a spot of… food shop­ping.  Rosie had brought along a gift from her mother which she referred to con­stantly as "the big dead pig in the fridge," which was in fact a gor­geous pork belly.  To sup­ple­ment this, I bought cele­riac to puree and beets to roast — on request — and Pauline, arm in arm with her daugh­ter who lives locally, bought a quan­tity of cau­li­flower to roast, too.  Ingre­di­ents were pur­chased for an enor­mous pavlova to be con­cocted by Caro.  We dropped our bags off at the cars and then mean­dered over to Heaven on Earth, oth­er­wise known as "Barter Books," pos­si­bly the largest sec­ond­hand book­shop in all of Great Britain.  OMG.
Set in a dis­used rail­way sta­tion at the top of a beau­ti­ful hill set round with spring flow­ers, this was a mecca I can­not ade­quately describe.  Avery would have been in heaven.
I found sev­eral trea­sures, among them a vol­ume of Avery's trea­sured Dorothy Parker's poetry, and a lovely can­vas bag for her to use for her school books.  We had a crowded and hot lunch, and then departed for another round of the food shops and finally, laden, home again to cook.
A long walk to the beach, and a happy wan­der in the set­ting sun.
Dear­est Susan intro­duced us to beau­ti­ful new trends in sushi… which I love… and then the best pork belly EVER, EVER.  And my cele­riac puree went down well.  Up in the morn­ing to dis­cover that my train left ear­lier than I had thought, so off we went for an emer­gency trip to the sea­side — "We MUST show Kris­ten a sandy Eng­lish beach!" — at Bam­burgh Cas­tle.
Old friends.  I was sad to leave.
But home has been busy.  My social work with Home-Start is going very well, with weekly vis­its to my lovely fam­ily who must go unde­scribed for secu­rity pur­poses.  Suf­fice to say, it's won­der­ful to have chil­dren to play with, and to feel that per­haps my being there is a bit of a help.  It's a sub­tle way to vol­un­teer, not as dirty as Lost Prop­erty, but with its own quiet sat­is­fac­tion.  And on my way out of my super­vi­sion last week, I came upon cheer­ing crowds and wav­ing British flags, and in just a moment, the Queen and Prince Philip rode past us in their SUV on their way to a party in Rich­mond Park!  Trust me, they're in here!
The Jubilee — the Queen's 60th anniver­sary on the throne — cel­e­bra­tions are all around us these days.  Dec­o­rated tins of bis­cuits, ash­trays adorned with the famil­iar crowned face, tea tow­els, bunting, com­mem­o­ra­tive can­dles, cal­en­dars and tea mugs, are every­where.
Speak­ing of Eng­lish insti­tu­tions, if you have a chance to get to the Isabella Plan­ta­tion in Rich­mond Park, DO.  Appar­ently it's planted to have some­thing spec­tac­u­lar flow­er­ing at every season.
I can answer only to May, and… aza­leas.  Remarkable.
And some pretty yel­low and pur­ple flow­ers whose iden­tity is beyond me.  But gor­geous.  Magical.
And of course being me, I'm cook­ing back here at home, too.  How­ever, I was felled by a 24-bug last week and spent all of Wednes­day hud­dled on the sofa, being brought fizzy water by John, a cup of tea, a throw, a hot water bot­tle.  Tacy was loyal and fol­lowed me from sofa to bed.  I sim­ply had to be bet­ter by Thurs­day night, because we had reser­va­tions to the newly reopened "Sonny's Kitchen" in our beloved Barnes Vil­lage, and I could not bear to miss it.  We'd been watch­ing the new chef, Phil Howard, com­pete all week on "Great British Menu" on the BBC, and the thought of actu­ally eat­ing his food was a great induce­ment to get bet­ter ASAP.
And I did.  Thurs­day night we traipsed over to the restau­rant where I have had many happy "ladies who lunch" with friends, to the open­ing night of the new ven­ture.  And he was there!  So excit­ing to see him, and how lucky I felt to be well enough, and to have so much fun out with John all these years we've been eat­ing din­ner together.  Foie gras ter­rine with elder­flower jelly, gaz­pa­cho with sour cream ice cream, lamb rump with an egg­plant stew, pizza bianca with smoked moz­zarella and Waygu beef… what a treat!  What a relief to have him con­tinue to cook REAL food, in the face of all the super-modern insis­tence on some­thing crazy called "mol­e­c­u­lar gas­tron­omy."  Liq­uid nitro­gen!  Turn­ing veg­eta­bles into piped caviar-shaped dots!  Every­thing turned into a wob­bly, reduced jelly!  No thank you.
Finally, last night saw us out for sushi at Itsu (ah, salmon, tuna, spinach and more salmon!) with Avery and her friend Sam, the four of us res­olutely at two sep­a­rate tables!  And thence to Not­ting Hill Gate's Gate The­atre, a hole-in-the-wall, walk-up, grungy the­atre with a sense of humor.
We were there for a com­pletely thrilling, stim­u­lat­ing, intel­lec­tu­ally fas­ci­nat­ing play called "Tenet," a con­fec­tion of two actors ("and Cather­ine!" they cho­rused, refer­ring to the lighting/sound girl behind a cur­tain) play­ing Wik­ileaks' Julian Assange and a rogue 19th cen­tury French math­e­mati­cian, inves­ti­gat­ing the "tenet" that "rad­i­cals sim­plify."  I could feel my fore­head screw­ing up in the effort of under­stand­ing what was going on, pic­tur­ing how much bet­ter I could have done in maths if I had ever been taught like THAT.
What a thrill to go to such a play with two teenage girls who can fully explain higher maths, physics, phi­los­o­phy, polit­i­cal his­tory.  We talked fast and furi­ous all the way home, and they are now inspired to try to put on the play them­selves at school.  "But why," I ask, "do we need to won­der about the 5th dimen­sion if we already have four dimen­sions to worry about?"  "Because," Avery answered, "the point of the play was, why should we bother ask­ing ques­tions to which we already know the answers?"  It takes being young, I think!
Don't you think she could be the per­fect librar­ian?  She's wear­ing my old clothes!
She is deep into revi­sions for her sum­mer exams right now, so all I can do is to cook for her, lis­ten to her fre­quent moans about how on earth to jug­gle Russ­ian, Latin AND French, not to men­tion chem­istry, physics AND biol­ogy.  We'll have two weeks of this and then back to normal.
One of the treats I'll be able to offer is a decep­tively sim­ple, com­pletely effort­less, sin­fully rich and delicious…
Slow-Roasted Duck
(serves 4 with left­overs for soup)
1 duck, Gress­ing­ham if you can get it
6 sage leaves
Mal­don sea salt and fresh black pepper
Sim­ply line a bak­ing dish with foil and place the duck on it.  Put the lemon half inside, then prick the duck all over with a very sharp lit­tle fork or knife, tak­ing care to pierce the skin but not the flesh.  Roast at 120F/200C for two hours, then at 160C/300C for three fur­ther hours.  If the skin needs crisp­ing after that, roast a fur­ther 20 min­utes at 220C/425F.  Remove the duck from the dish which will be filled with fat, and place on a cut­ting board.  Shred all the meat with two forks and serve with gravy, or wrapped in pan­cakes or let­tuce with plum sauce and cucumbers.
I'll leave you with a book rec­om­men­da­tion, so you know I don't think only of cook­ing.  Oh, wait.  It's about cook­ing.  Ah well, one can't get away from who one is, right?  Happy Spring.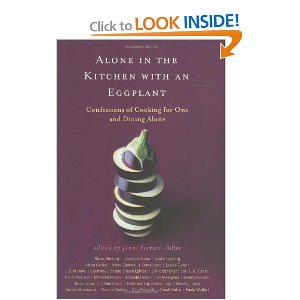 Print This Post