the blue­berry or the muf­fin? you decide
--June 19th, 2010--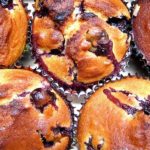 Might I inter­rupt what­ever excit­ing activ­i­ties are occu­py­ing you, dear read­ers, at this moment, and ask your opinion?
I am about to meet with a sim­ply SUB­LIME food pho­tog­ra­pher here in Lon­don, about pos­si­bly (so excit­ing!) tak­ing pho­tographs for my even­tual "book." Now here are some things I am won­der­ing. And the rea­son I am ask­ing you? Because she said, "You must ask your­self who your audi­ence is to be."
I am hop­ing it will be YOU.
So. Do you like to look at/read/use foodie books that include pho­tographs of ingre­di­ents, or of dishes in progress, or of fin­ished dishes? I sup­pose the ingredient-based illus­tra­tions are more artsy, more for the joy of look­ing, where the dish-in-progress or fin­ished dish might be more instruc­tional. Does that make sense?
For exam­ple, the pho­tographs above give you an idea of the sort of choice I am imag­in­ing. What do you like? One or the other, or both, or some­thing else entirely?
If you have an opin­ion on this sub­ject, do take a moment to let me know. It's all get­ting stu­pen­dously thrilling. And thank you!
Print This Post